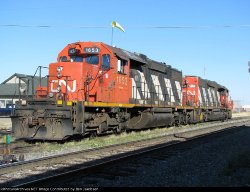 Welcome to the RRPictureArchives.NET contributor site of Ben Jakobsen.



Hello all...........

My name is Ben Jakobsen, and I'm an avid photographer of many different interests, but far and away, trains lead the list of what I like to capture in my lens, the most. I thank my father who so many, many years ago, propped me on his shoulders and introduced me to the world he obviously loved as much. I have the privilege of steam locomotives in my memories because of him, and likewise, a lifetime of enjoyment, both in chasing and recording trains, and building them in miniature.

I hope my photographs bring enjoyment, as well as offer anyone who needs it, a source of reference for art, miniature replicas or anything else useful.

As an aside, I have an online photo album where many of the photographs in here are also posted, but the difference is, is that sometime soon, I'm posting the hundreds of close up reference photographs of each posting here for those of you who model. Feel free to use them, copy them, but please let the world know who's photograph they are if you re-post them, and make sure you direct them here, to Tim's awesome site.

Thanks.

http://benjakobsen.smugmug.com/Hobbies




You may browse my collection of pictures via the menu located on the left hand side of the page. I hope you enjoy the collection and thanks for stopping by!